Apparently, Ron Paul enjoyed a good antisemitic magazine in the 1970s called The American Mercury. He enjoyed one particular issue so much, he felt compelled to write a thank you note on his Congressional stationary. That issue gracing the Ron Paul throne room circa 1979 contained articles such as: "You Can't Escape the Kosher Food Tax", "Are You Ready for the White Man's Doomsday", and "Racism—Black African Style". This magazine was published by the Holocaust denier Willis Carto. Those of you who pay attention might remember that this is the same Willis Carto about whose "literature" Ron Paul once bragged he received most of his financial and popular support.
Of course, it could be that Illumanati time travelers once again traveled back in time to make it appear like Ron Paul has a past indicative of a
huge
racist. So we might never know. I mean.. who are you going to believe -- Ron Paul, or your lying eyes?
http://www.thedailybeast.com/articles/2 ... tters.html
I realize it's difficult for certain
volk
to actually read sources. So, here you go!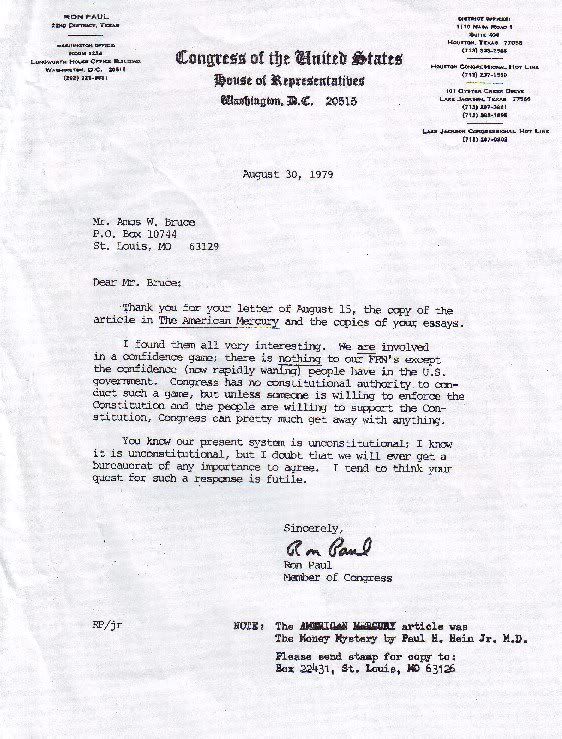 Ron Paul - Carto relationship:
Mr. Paul is not unaware of that strain among his supporters. Mr. Crane of the Cato Institute recalled comparing notes with Mr. Paul in the early 1980s about direct mail solicitations for money. When Mr. Crane said that mailing lists of people with the most extreme views seemed to draw the best response, Mr. Paul responded that he found the same thing with a list of subscribers to the Spotlight, a now-defunct publication founded by the holocaust denier Willis A. Carto.
http://www.nytimes.com/2011/12/26/us/po ... wanted=all
Willis Carto is a holocaust denier, Hitler admirer and a white supremacist. A former campaigner for segregationist candidate George Wallace, Carto founded the National Alliance with William Pierce, the author of the "Turner Diaries," which is credited for inspiring Timothy McVeigh. Carto founded the Populist Party in 1984 and ran David Duke as a presidential candidate. Carto also founded the American Free Press, which is labeled as a hate group by the Southern Poverty Law Center (SPLC), where Paul's column runs. Paul has not sued Carto for running his column or explained how it wound up in a white supremacist publication. The New York Times writes that Paul used the subscription list to a white supremacist publication of Carto's to solicit donations.

http://newsone.com/nation/casey-gane-mc ... upporters/